Finisher @ la Transtica – Costa Rica Ultra Trail – Extreme. Apparently, finished overall in the top 10.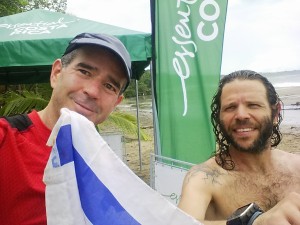 Congratulations for completing the training for Costa Rica Commando forces.
Really, coming into stage 5, it was my fault for missing the hint our drill-sergeant Bernard (aka race director) gave us this morning. "Yesyerday, forecast said clear skies, and it was raining alk day, the weather forecast for today says rain – maybe it will clear up", says the sergeant.
What he was really telling us, was "always expect the unexpected", and he was not really talking about the weather.
Today's final stage was the shortest one with only 28 km, but not as easy. It included everything a Trail Running race in Costa Rica has to offer – back and forth switching between sunny beaches – running on black or white sand, in sea water, or crossing rivers as they reach the Caribbean. And forest trails – super muddy trails in an equatarian forest.
Punishing sun, very high humidity, sand-filled shoes, countless water crossings, slippery mud, knee-high mud-swamps, … Fun!
All great! As I reached the 19th km, I finished up my last drop of water. No problem, I was thinking, as the next aid station was only 3 km away, and having filled myself, not an issue.
A km before that last aid station, on a very muddy and sliw trail, I was fantcising of big gulps imof water with a double-serving of salt-tablets.
Alas, as I arrived at the aid station, it turned out to be a dud – control check only, and no water at all. "Well done", they say. " No water?!" says I… the lonely guy there eventually points me at a used up coconut, from which I try to squeeze out a couple of refreshing drops.
"Expect the unexpected" … thank you for the lesson, drill sergeant, I keep thinking as I try to preserve energy to finish the last 6 km through the mud, heat, humidity, and horse-flies trying to suck up whatever liquid my body still holds.
Quite happy to have crossed the line in good shape.
"La Transtica" Stage cleared. On to the next Challenge.